Importance of cleaning air conditioning systems

Right now it is probably more important than ever that your air conditioning system is clean and running smoothly. Not because CONVID-19 can be spread through air conditioning units but because you are stuck at home and you will be using your air conditioner more than usual. As we come into cooler months those of you with split systems will be using the heating function more than usual. This, in turn, means that electricity bills will be more expensive. If you can maintain a clean air conditioning system you can reduce some of the expensive bills and at the same time ensure good health.
Health and well being is affected by poor air quality
The quality of the air you breathe has an enormous effect on your health and wellbeing. The more an air conditioning system is used the more likely it is to get clogged up with mold, pollen, pet hair and other allergens, this can increase the risk for family members with asthma and allergies. In addition, humidity in the home can encourage mold and bacterial growth, while too little moisture in the air can be a factor in dry, unhealthy skin and respiratory issues. There are four particular groups (although all people could benefit) that need the best possible air quality in the home:
Infants to 16-years-old
Adults, age 60 plus
No age restriction - immune-compromised individuals, pregnant women, and persons with chronic respiratory disorders, and those recovering from surgical procedures or illness
Pet owners with domestic animals - dogs, cats, and birds
In all instances it has been shown that good air quality can have a positive impact on individuals ongoing health.
Consult an air conditioning professional.
A regular air conditioning and ventilation systems review is recommended for both commercial land residential properties by Government departments, especially during flu seasons. A professional air conditioning installer and maintenance company will be able to provide advice and recommendations about how best to maintain your air conditioning system.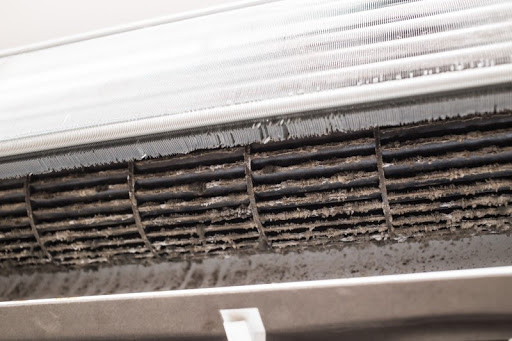 Clogged up and dirty air conditioners will work much harder to pump out clean air.

Even a basic clean can make a difference.